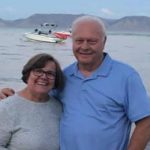 Ron Dimmick
Handyman & Miracle Worker
A little about Ron
Meet our secret weapon, Ron Dimmick. He is our full-time handyman, yes-man, "I-can-do-that" guy, and all-around miracle worker. Ron can find solutions to almost any problem, does top quality work, and leaves every home looking incredible. Not to mention he is an amazing dad.
When anyone has a home repair, we love being able to say with a smile, "I know a guy..."
Ron provides efficient, quality, affordable repairs so that our clients can maximize their return on investment. In other words, he makes the house look amazing for the new buyers.
We always look at the house when we're done we we all laugh and say, "can you believe the transformation?" He enjoys the satisfaction of doing a good job and he really does love working with his daughter.
He enjoys water skiing, playing golf, playing drums, oil painting, and spending time with his wife and family.